---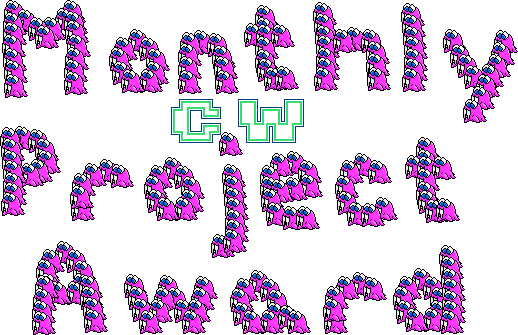 The June 2017 Monthly CW Project Award survey is now up, with 18 eligible projects to vote for. Unfortunately, the bad news is that this award will be the last, as the Monthly CW Project Award is being discontinued due to personal matters.
Edit by aeTIos: The monthly award will continue, albeit in slightly different form. Keep an eye on the news.
Here is the project list below:
(83+/84+) Driller Knight
(83+/84+) Puzzler's Sudoku
(83+/84+) Raiders: A Zelda-Like game
(84+CE) 3D rendering of simple objects in TI-BASIC
(84+CE) AspirinCE
(84+CE) Dragon Warrior
(84+CE) File Manager in TI-BASIC
(84+CE) Oiram CE
(84+CE) The Game of Finding Free Wifi
(84+CE) TI-Planet CE C Project Builder
(Casio) libcarrot - fxlib Alternative
(Colecovision) Copyright Infrigment: The Regressive Right (NSFW)
(PC) Chess
(PC) Platformer V2
(PC) Superstar Hero
(Web) Java code to spellcheck via google
(Hardware) Juju's Arcade Cabinet
(Hardware) RPN-Calculator
As always, all entries are competing against each others, regardless of the platform. Have you spotted projects this month that you think are more notable in particular or that you liked in particular? Select
four (4)
options in the poll attached to this topic (requires 20 posts) then click Submit! And don't forget to visit each topic again to give authors encouragements and suggestions!
There will be no tie-breaker poll this time around, regardless of how many projects finish with the highest vote count.
You have
You have until June 7th to vote
, so hurry up before it's too late!