---
17 years after Texas Instruments released it, the TI-89 finally got a fully complete Zelda clone, playable from the beginning to the end!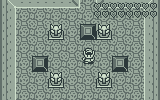 http://www.ticalc.org/archives/files/ss/860/86057.gif
You can download it here:
http://www.ticalc.org/archives/files/fileinfo/463/46319.html
Only two finished Zelda games exist for the TI-83 Plus series, which are
Zelda: The Hero of Hyrule
and
Dark Link Quest
, and they came out in 2004, after many people failed to complete a Zelda project for the TI-83 Plus series. The former uses the ARPGCS engine, is written in French and lacks many elements from Zelda (such as hearts, items, etc), but has very great graphics, Ys-like gameplay and fast speed. The latter was written by me and uses hybrid BASIC language with very old ASM libraries resulting in slowdowns and lower quality graphics, but has most features from older games. This new TI-89 Zelda game is also one of very few 68K game to get released in many years.